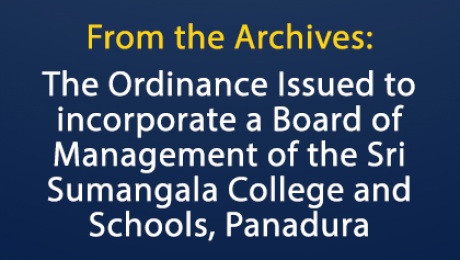 Ministry of Justice's Lawnet website published the ordinance issued on 08th, December, 1945 to incorporate a Board of Management of the Sri Sumangala College and Schools, Panadura. The detailed information about the said ordinance can be viewed by clicking the following link: https://www.lawnet.gov.lk/sri-sumangala-schools-3/.
According to the ordinance, the composition of the Board comprised of 07 life members and 24 other members.
Life Members,
Mrs. Angela Ellen Dias.
Mrs. Dovisina Leanora Dias.
Mr. Ponnahennedige Alfred Lewis Dias.
Mr. Walter Salgado.
Mr. Arthur Vincent Dias.
Mr. Neville Spencer Cornelius Perera.
Mr. Cyril Thomas Rodrigo.
Other Members,
Mr. Richard Salgado.
Mr. Susanta de Fonseka.
Mr. Ponnahennedige Robert Dias.
Dr. Theobold Henry Dias.
Mr. Charles Victor Dias.
Mr. Neil Quintus Dias.
Mr. Charles Martin Dias.
Mrs. Lilian Perera.
Mrs. Cecily Violet Dias.
Mr. David Solomon Fernando.
Mr. Percy Reginald Rodrigo.
Mr. Dickman Harold Dias.
Mr. Thomas Edwin Gooneratne.
Mr. Warusahennedige Leo Fernando.
Mr. Wilmot Rodrigo.
Mr. Leslie Simon Bernard Perera.
Mr. Patrick de Silva Kularatne.
Mrs. Eileen Rachel Amarasuriya.
Mr. Lionel Cyril de Mel.
Mr. Warusahennedige Abraham Bastian Soysa.
Mr. Arthur Edwin Dias.
Mr. Mututantirige William Peter Cooray.
Mr. Mututantirige Albert Cooray.
Mr. Bensiri Senarath Dias.
The establishment of the Board of Management in 1945 with eminent personalities was a beginning of a new chapter in the history of our Alma Mater. We Sumangalians should always be proud of the legacy of the mother Sumangala.