Saturday, 25 November 2023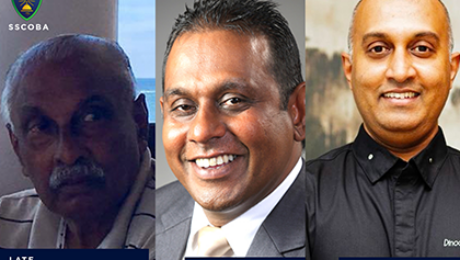 We are immensely grateful to Mr. Imal Fonseka, a distinguished figure in the corporate world, and Mr. Dinoo Fonseka for their generous donation of Rs 75,000 to the SSCOBA Scholarship Fund. Their contribution is made in loving memory of their late father, Mr. Manukula Fonseka, a revered Sumangalian and former President of the SSCOBA Kandy branch.
Mr. Imal Fonseka, currently Co-Founder at Taurus Naturals, with his illustrious career as the former Group CEO of Fairway Holdings, former CEO at Ceylon Biscuits Limited, and Managing Director (FMCG) at Hemas Holdings and Mr. Dinoo Fonseka, current the Executive Sous Chef at JW Marriott Marquis Hotel Dubai, continues the legacy of dedication and support initiated by their father. Mr. Manukula Fonseka was a pillar in the SSCOBA community, fervently working towards the welfare of our students, college, and alumni. His efforts in strengthening the bond between the Kandy Branch and the Parent Body have been instrumental.
Today, we see the same spirit of generosity and commitment in Mr. Imal Fonseka's and Mr. Dinoo Fonseka's gestures. This donation not only honours the memory of Mr. Manukula Fonseka but also exemplifies the values of giving back and supporting the next generation of Sumangalians.
On behalf of all Sumangalians, we express our deepest appreciation to Mr. Imal Fonseka and Mr. Dinoo Fonseka. Your contributions will significantly impact the lives of many students, aiding in their educational journey and future successes.
Thank you, Mr. Imal Fonseka and Mr. Dinoo Fonseka, for keeping your father's Sumangalian spirit alive and for your unwavering support.