Thewarathanthrige Sarath Fernando Memorial Award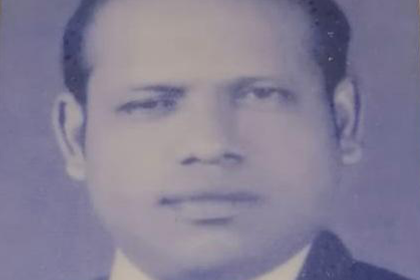 Awarded to the Student Achieving Best Results at Advanced Level Examination in the Mathematics Stream
Mr. T. Sarath Fernando was born in 1942 and hails from a respectable family from Nalluruwa, Panadura; where he spent his entire childhood. He joined Sri Sumangala Senior School in the 1950s after completing his primary education at Sri Sumangala Town Branch.
He was the eldest child in a family of five siblings. Out of his three brothers – Susil, Ranjith and Wasantha – the later attended Sri Sumangala College during 1960s, while his sister – Pushpa, attended Panadura Balika Vidyalaya. His youngest brother – Mr. Wasantha Fernando is a member of OBA – Colombo Branch.
He lost his father at the age of 11 and had to struggle to complete his education. He achieved 'Double Senior' – Two Senior School Certificate Examinations competed in Arts and Mathematics streams – by the time he left the College. Due to financial difficulties, he had to stop pursuing his dream of becoming an engineer. He joined Bank of Ceylon in 1969 and had a successful career and retired as a Senior Manager in 1997. He always enjoyed maths and cherished his learnings and memories at Sri Sumangala College. This award is presented by the family of late Mr. Sarath Fernando to promote students of Sri Sumangala College who aspire to pursue a career in engineering.
Master A. H. Rashmin De Silva Senapriya is the proud winner of T. Sarath Fernando Memorial award for 2021 for his outstanding results at advanced level examination 2020. Since the pandemic conditions have apprehended mass gatherings, the annual prize giving of the College for 2020 could not be held. As such the prize was awarded to the student at a function  held at Jie Jie Beach by Jetwing on 31st October 2021 with the participation of the family members of late Mr. Sarath Fernando, members of the Head Table of SSCOBA and two Vice Presidents of SSCOBA. The family of late Mr. Sarath Fernando and SSCOBA wish all the very best for the future of A. H. Rashmin De Silva Senapriya.
Mr. Bingumal Thewarathanthri, the son of late Mr. Sarath Fernando, who is the Chief Executive Officer of Standard Chartered Bank of Sri Lanka expressed the willingness of his family to continue this award for future as well.