Sumangalian, Late Mr. I E G Perera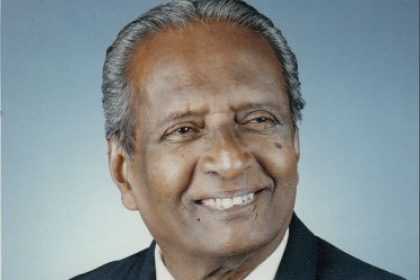 Mr. Illeperumage Earnest Granville Perera (fondly called as IEG), one of the most senior members of Sri Sumangala College Old Boys Association (SSCOBA) passed away at the age of 91 after a brief illness. He was a founder member of Sri Sumangala College – Panadura Colombo Union (SSCPCU), an integral part of SSCOBA and served for nearly 25 years holding many key positions.
Mr. Perera was born in 1930 at Alubomulla, Panadura being the eldest son of a family of six siblings. He had his primary education from Alubomulla Maha Vidyalaya. In an era where the secondary education was available at a fee, he received a scholarship to enter Sri Sumangala College in 1942. The great Sumangalian late Dr. Neville Fernando was a close associate of his life at Sri Sumangala. He passed his Senior School Certificate in 1949 and started his career as a teacher at Nuwarawewa Vidyalaya, Anuradhapura in 1951. Having succeeded at the Governmental Service Exam in 1952, he joined Inland Revenue Department. Thereafter, in 1958 subsequent to the nationalization of Sri Lanka Ports Authority, he joined there and served for 32 long years holding many positions until his retirement as the Secretary of Sri Lanka Ports Authority in 1990. With a view of appreciating his service to the society he was appointed as a Justice of Peace by the Ministry of Justice.
Mr. Perera's last engagement with SSCOBA was the 97th Old Boys' Day programme held in October 2019, where he graced the occasion as the Chief Guest. His demise is a great loss to our association.
SSCOBA takes this opportunity to convey its heartfelt condolences to the family of Mr. Perera. My he attain the supreme bliss of nibbana!