Sumangalian Kumudu Sandaruwan Perera won the award of 'Sward of Honour'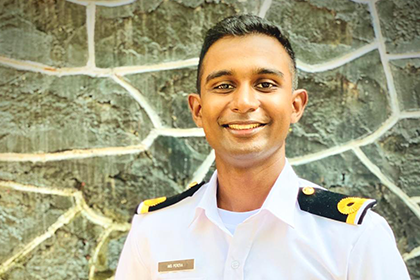 We are extremely happy to announce Sumangalian Kumudu Sandaruwan Perera of Sri Lanka Navy recently passed out as an Acting Sub Lieutenant at the 35th intake with flying colours. Kumudu won the award of 'Sward of Honour' – the Best Midshipman of 35th  intake of Kotelawala Defense University bringing glory to our Alma Mater, which is the most valuable award that a naval person can receive.
He has also received the awards for 'Highest Marks in Overall Subjects' and 'Highest Marks in Professional Subjects'.
We wish Acting Sub Lieutenant Kumudu Sanadaruwan Perera all the very best in his naval career.