Sumangalian, Commodore Asanga Ranasuriya has been promoted to the rank of Rear Admiral recently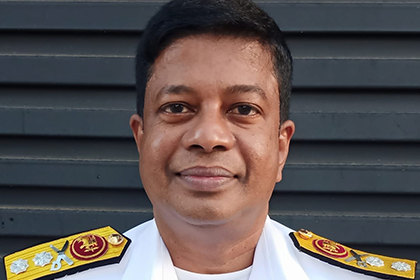 REAR ADMIRAL, L H A RANASURIYA RSP & BAR, USP, psc, MSc(Mgt), BSc(DS) Mech Eng, MIM(SL)
Born on 20 th October 1968 and educated at Sri Sumangala College, Panadura. He excelled in both studies and sports throughout his school career. He captained under thirteen and under fifteen cricket teams in school. He has held different appointments in college science, buddhist associations and a prominent active character whilst at school.
He joined General Sir John Kotelawala Defence University as an officer cadet on 14th November 1989 and received his second year training at Naval and Maritime Academy, Trincomalee. On completion of two years successful training period he was commissioned as an Acting Sub Lieutenant on 14 th November 1991. Subsequently he was promoted to the ranks of Sub Lieutenant, Lieutenant, Lieutenant Commander, Commander, Captain, Commodore and now to Rear Admiral. He is a distinguished graduate of General Sir John Kotelawala Defence University. Further, he has obtained Masters degree in Management from General Sir John Kotelawala Defence University. He has followed lot of local/foreign courses and visited foreign countries for various seminars/meetings.
He did Sub Lieutenant Technical Course in Sri Lanka and specialized in Communication in India. He underwent training on advanced Electronic Warfare course in Pakistan. He successfully followed staff course in year 2005. He has visited Israel as a member of the crew for the acquisition of Fast Missile Vessel. He has visited Andaman Islands for get together of Navies and Coast Guard. He has followed anti piracy/anti terrorism programme in USA and followedSenior Command Course in China.
During more than 32 years of his naval career he has held number of sea and ashore appointments where he performed very successfully. He has commanded Fast Attack Craft, Passenger ship, Fast Gun Boat and Offshore Petrol Vessel, Fast Missile Vessel named P 411, SLNS Hansaya, SLNS Weeraya, SLNS Jayasagara, SLNS Suranimila. Further, he has served on board Surveillance Command Ships, Sub Chaiser and Landing Craft. Furthermore, he has acted as an instructor in Naval and Maritime Academy and General Sir John Kotelawala Defence University. He has commanded naval base of SLNS Mahaweli, acted as Western Region Director of Sri Lanka Coast Guard and Commanding Officer of Coast Guard base SLCG Waruna. Further he has performed duties as naval officer in charge of Poonewa, and Commandant of Naval academy SLNS Shiksha, Deputy Director Naval Training at Naval headquarters, Deputy Director General of Sri Lanka Coast Guard and Deputy Area Commander of South East Naval Command. At present, he is performing duties as Director Naval Internal Audit at Naval Headquarters.
He has been awarded with "Ranasoora Padakkama" medal twice by the HE the president for his bravery acts in the face of enemy and other decorations bestowed to him include Uttama Sewa Padakkama, Sri Lanka Armed Service Long Service medal, Sri Lanka Navy 50th anniversary medal, 50 th anniversary independence medal, North & East operations medal, Poorna Bhoomi medal and Riviresa operation campaign medal.
He married Dulmini in 1998 and blessed with a son and a daughter.