Successful Online Career Guidance Session Held for 2020 A/L Students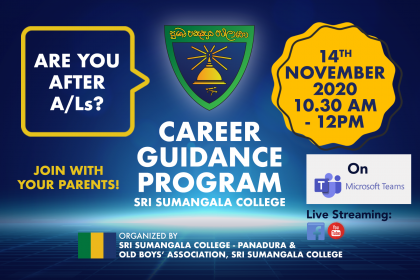 The SSCOBA in collaborations with the Principal and the teachers of the college organized an online Career Guidance Program for 2020 A/L students for the second consecutive time. This was open to our college students as well as students from other colleges and parents.
Speakers of the program were,
Our Distinguished Old Boy, Mr. Tilak De Silva
Former Chief Business Innovation Officer – Sri Lanka Telecom
Chairman – Engineering Council Sri Lanka
Dr. T. A. Piyasiri
Former Vice-Chancellor – University of Vocational Technology (UNIVOTEC)Vice-Chairman (Planning) – National Education Commission (NEC)
The session was well attended by students and parents. There were more than 500 students and parents from around the country joined the online session through different channels we offered including Microsoft Teams, Facebook Live Streaming, and YouTube Live Streaming.
With this online session, SSCOBA introduced it's YouTube Channel as well.
Watch the recorded session:
We would like to thank everyone who got involved in this program.