SSCOBA Handed Over the Official Agreement of "සුමඟුල් රිවි බල" Solar Power Project to the College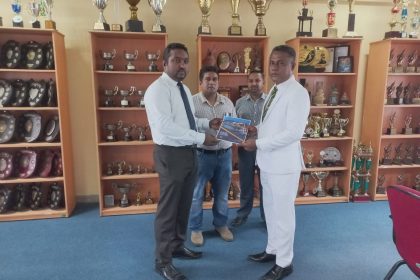 Sri Sumangala College Old Boys' Association (SSCOBA), an integral part of the college is at the verge of celebrating its 100th anniversary on 28th October 2022. In lieu of this historical moment, SSCOBA has planned a series of activities for the betterment of both the present day students of our Alma Mater and old boys.
One such activity is to install a solar power system at the college premises in order to save the monthly electricity bill of the college, whilst fulfilling a social responsibility of promoting green energy. This is going to be the first phase of the project and the SSCOBA anticipates to expand the capacity in the next stage.
The official agreement of the "සුමඟුල් රිවි බල" Solar Power Project was handed over to the Principal – Mr. Niluka Weerasinghe by the President of SSCOBA – Mr. Mahesh Fonseka on 05th May 2022 at the college. Treasurer of SSCOBA – Mr. Dinesh Ketapearachchi and Project Chairman/Vice President – Mr. Chamath Dias also presented at this occasion.
SSCOBA takes this opportunity to extend its heartiest gratitude to all donors who made this project a success.