SSC Group of 2007 donates Rs 120,000 to support upgrading Mr. Dhanushka Sanjaya Fernando's Children's Cochlear Processing Units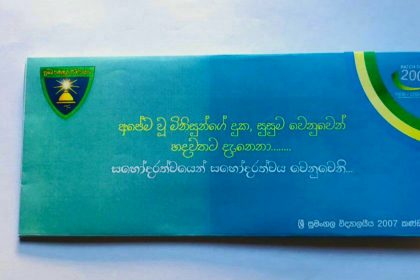 SSCOBA is pleased to announce that we have been touched by the "Sri Sumangala College Group of 2007". We are very fortunate to facilitate a generous donation of Rs.120,000/- from the 2007 group to enable the mission of upgrading Cochlear Processing Units of our old boy & Exco member Mr. Dhanushka Sanjaya Fernando's daughter and son.
SSC Group of 2007 are the Sumangalians who did their Grade 5 Scholarship in 1998, O/Ls in 2004 & A/Ls in 2007.
All of us at SSCOBA are grateful for this donation and we thank the SSC Group of 2007 for doing their part to enhance the lives of these 02 innocent children.
Thank you again!