Sri Sumangala College Old Boys' Association Lends a Helping Hand for Alms Giving on the 114th Founders' Day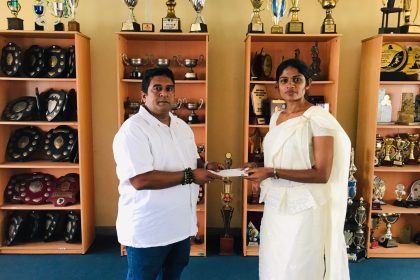 This year also, the Sri Sumangala College Old Boys' Association proudly contributed to the Alms Giving event organized by the college in commemoration of its 114th Founders' Day with Rs 225,000/-. The occasion was a testament to the enduring bond between the college and its alumni, as they came together to honour the legacy of the founding members.
The contribution was handed over to the Acting Principal, Mrs Sinali De Silva by the Treasurer of the Sri Sumangala College Old Boys' Association, Mr Dinesh Katipearachchi at the Principal's office.
As Sri Sumangala College continues its journey towards excellence, the Old Boys' Association remains steadfast in its support, offering resources and guidance to help the college flourish. This enduring partnership, exemplified by the recent Alms Giving event, demonstrates the profound connection between past, present, and future generations of Sri Sumangala College, united by a shared commitment to upholding the values that have guided the institution for 114 remarkable years.