Celebrating the Launch of Sri Sumangala College OBA-UK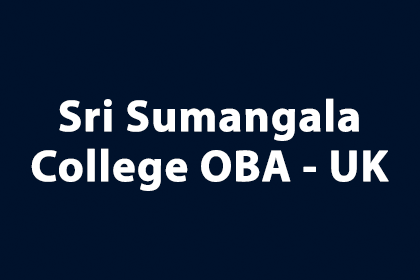 We are thrilled to announce the inauguration of the Sri Sumangala College OBA-UK. This new chapter aims to extend the legacy and camaraderie of Sri Sumangala College to our alumni in the UK.
It is truly heartwarming to see the spirit of our alma mater being carried forward in the United Kingdom, and we, SSCOBA, as the official alumni of Sri Sumangala College, extend our heartfelt congratulations and best wishes on this commendable initiative.
Objectives of Sri Sumangala College OBA-UK:
Networking: Strengthen personal and professional connections among alumni in the UK.
Mentorship, Assistance, and Scholarship: Provide invaluable support to current students and contribute to the school through various initiatives.
Social Engagement: Participate in and organize Sri Lankan events in the UK.
Knowledge Sharing: Facilitate seminars, workshops, and lectures featuring our distinguished alumni.
Founding Office Bearers of SSCOBA-UK:
President: Ranga Pathinayake
Secretary: Aruna Jayathilake
Joint Secretary: Yasiru Jayalath
Treasure: Buddhika Fernando
Vice President: Indika Hemantha
Vice Treasurer: Manesh Wettasinghe
Committee Members:
Gayan De Fonseka
Kamal Aluthgedara
Prabath Mudiyanselagedara
Ravin Perera
Hasarel Fernando
Bandula De Silva
The Old Boys' Association of Sri Sumangala College, Panadura, has always been at the forefront of supporting the college's growth and prosperity. We will be working hand-in-hand with the newly formed SSCOBA-UK. Together, we will further the collective goal of enhancing the experiences of our current students and reinforcing the bonds among our esteemed old boys.
Call to Action: Sumangalians in the UK, Join Us!
If you are a former student of Sri Sumangala College – Panadura currently residing in the United Kingdom, we warmly invite you to join the SSCOBA-UK chapter. By becoming a member, you can reconnect with old friends, enhance your professional network, and actively participate in crafting our alma mater's bright future.
To get involved or learn more about the SSCOBA-UK, please contact SSCOBA-UK President Ranga Pathinayake at +44 7725 418250 or Secretary Aruna Jayathilake at +44 7445 289916.
Let's come together to build upon the rich legacy of Sri Sumangala College!