Photos from the Career Guidance Program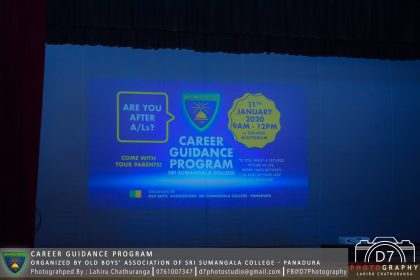 Old Boys' Association of Sri Sumangala College – Panadura successfully organized its first Career Guidance Program on Saturday, January 11, 2020 at the College Auditorium.
This is a first it's kind of a program conducted in Panadura where students and parents were able to get one-on-one consultations from industry professionals and reputed institutes.
The event was attended by students and their parents. The SLIIT Academy, Cinec Campus, UNIVOTEC (The University of Vocational Technology), APIIT and TVEC (Tertiary & Vocational Education Commission) had their representatives to present their programs and one-on-one sessions.
Old Sumangalian Tilak De Silva did his presentation on Career Guidance and Chamil Jeewantha, Software Architect at Zone24/7 and Visiting Lecturer at University of Moratuwa, University of Kelaniya and University of Ruhuna and Hasith Yaggahavita, Chief Technology Officer at 99X Technology and Board member of SLASSCOM presented their BRIDGE program and one-on-one sessions.
We would like to thank everyone who got involved in this first-ever program and we will make sure this will be a part of SSCOBA's annual event calendar.