Inaugural Discussion, Centenary Celebrations – විශේෂ සාකච්ඡාව, සියවස් සැමරුම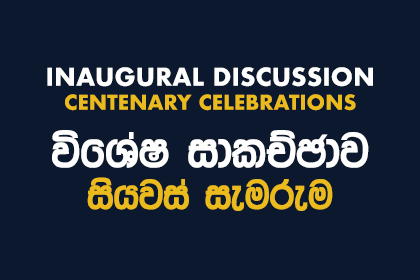 Dear Old Sumangalians,
Centenary Celebrations of the Old Boys' Association of Sri Sumangala College is around the corner. Since there are many tasks to be carried out, an inaugural discussion is scheduled to have on 21st March 2020.
If you are a capable Sumangalian who has the desire to serve the SSCOBA and our Alma Mater we cordially invite you to join hands with us.
Please call Amila on 071 445 5324 or Dinesh on 077 731 6183 for more details.
Thank you.
---
ආදරණීය ආදි සුමංගලීයනි,
ශ්‍රී සුමංගල විද්‍යාලයීය ආදි ශිෂ්‍ය සංගමය බිහිවී සියවසක් ගත වීමට ඇත්තේ තවත් වසර කිහිපයක් පමණි.
එබැවින්, මේ සුවිශේෂී අවස්තාව අති උත්කර්ෂවත් ලෙස සැමරීමට ආදි ශිෂ්‍ය සංගමය තීරණය කර ඇත. එය ක්‍රමවත්ව හා ඵලදායී ලෙස ක්‍රියාත්මක කිරීමේ අරමුණ පෙරදැරි කරගනිමින් 2020 මාර්තු මස 21 වන දින අප සංගමය විසින් සාකච්ඡාවක් සංවිධානය කර ඇත.
මෙම ව්‍යාපෘතිය සාර්ථක කරගැනීමට ආදි ශිෂ්‍ය සංගමය සමග සම්බන්ධ වීමට කැමති සුජාත ආදි සුමංගල පුතුන්ටයි මේ ගෞරවනීය ඇරයුම.
එන්න අප හා එක්වන්න…
අප සංගමයේ සම ලේකම්වරුන් වන අමිල 0714455324 හෝ දිනේෂ් 0777316183 ඇමතීමෙන් මේ පිළිබඳ වැඩිදුර තොරතුරු ඔබට ලබා ගත හැකි බව කාරුණිකව දන්වා සිටිමු.
ස්තූතියි.