Health Camp is back to commemorate the 101st Sri Sumangala College Old Boys' Day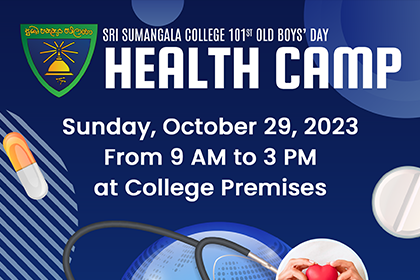 We are thrilled to announce the return of the Health Camp, commemorating the 101st Sri Sumangala College Old Boys' Day. This is a collaborative effort between the Sri Sumangala College Old Boys' Medical Association (SSCOBMA) and the Sri Sumangala College Junior Old Boys' Association, rekindling a tradition that brings together our old boys, current students and their families, and past and present teachers.
For years, the annual health camp was a staple on our college premises, conducted in collaboration with both the SSCOBMA, SSCOBA and SSCJOBA. Sadly, recent challenges, including the Covid pandemic and the nation's political and economic turmoil, interrupted this cherished event. The camp has always been an invaluable resource for our students, their families, teachers and old boys.
We're excited to share that SSCOBMA, in collaboration with the Junior Old Boys' Association, has resolved to reinitiate this beneficial gathering on Sunday, 29th October 2023. Attendees can look forward to the expertise of numerous medical professionals from the SSCOBMA community, including visiting physicians, VOGs, pediatricians, surgeons, general medical practitioners, Ayurvedic experts, medical technologists, pharmacists, and more.
We urge everyone to share this news widely and look forward to seeing everyone at the health camp!