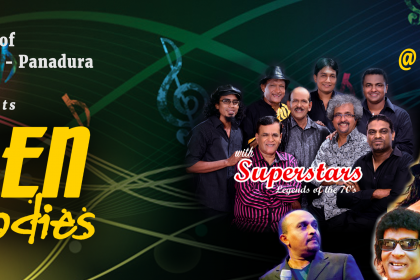 Sri Sumangala College Old Boys' Association proudly presents "Golden Melodies with Super Stars" – a musical miscellany featuring some of the renowned artists who represent the golden era of 1970s at Nelum Pokuna on 05th February 2017 from 6pm onwards.
The concert will be featured by famous artists in the calibre of Keerthi Pasquel, Annesley Malewana, Indrani Senarathne, Shyami Fonseka, Indrani Senaratne, Paul Fernando, Nihal Nelson, Indrani Perera, Sunil Perera and Sameera Senaratnes. The music will be composed by the famous "Super Stars" led by the veteran musician – Sarath De Alwis. The event will be compered by Kelum Srimal.
The funds raised from this concert will be solely utilized for the development projects of Sri Sumangala College and for the proposed museum of this century old institute.
"Golden Melodies with Super Stars" would be an ideal opportunity for the music lovers who prefer the taste of 70s music. The event line up has been carefully prepared, covering a vast range of choices.