Donor list of various donations SSCOBA have received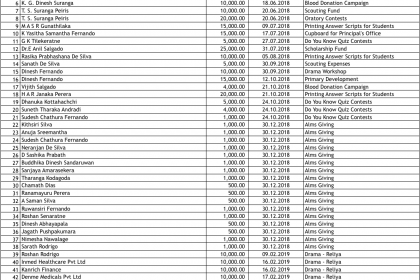 We would like to thank the listed Old Boys & Well Wishers for supporting the SSCOBA on various occasions. These donations specifically for projects like Prize Giving, Table Tennis Tournament, Primary Development, Oratory Contests, Blood Donation Campaign, Scouting Fund, printing Answer Scripts for Students, Cupboard for Principal's Office, Do You know Quiz Contest, Scholarship Fund, Drama Workshop, Alms Giving, Raliya Drama of SSCOBA, Badminton Development and Chess Development.
Thank you all again for helping us in assisting the college.