Direct Expenses done by SSCOBA to the College in 2019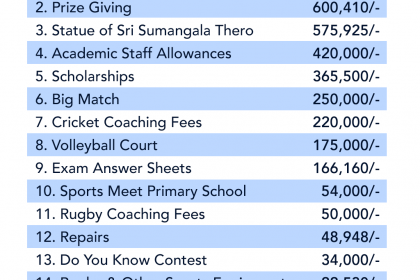 Old Boys' Association of Sri Sumangala College, the official alumni of the Alma Mater has donated over Rs.3.7Mn towards the college during 2019.
The breakup is as follows.
Sports Meet Upper School: Rs 745,764/-
Prize Giving: Rs 600,410/-
Statue of Sri Sumangala Thero: Rs 575,925/-
Academic Staff Allowances: Rs 420,000/-
Scholarships: Rs 365,500/-
Big Match: Rs 250,000/-
Cricket Coaching Fees: Rs 220,000/-
Volleyball Court: Rs 175,000/-
Exam Answer Sheets: Rs 166,160/-
Sports Meet Primary School: Rs 54,000/-
Rugby Coaching Fees: Rs 50,000/-
Repairs: Rs 48,948/-
Do You Know Contest: Rs 34,000/-
Rugby & Other Sports Equipments: Rs 22,530/-
Total: Rs 3,728,237/-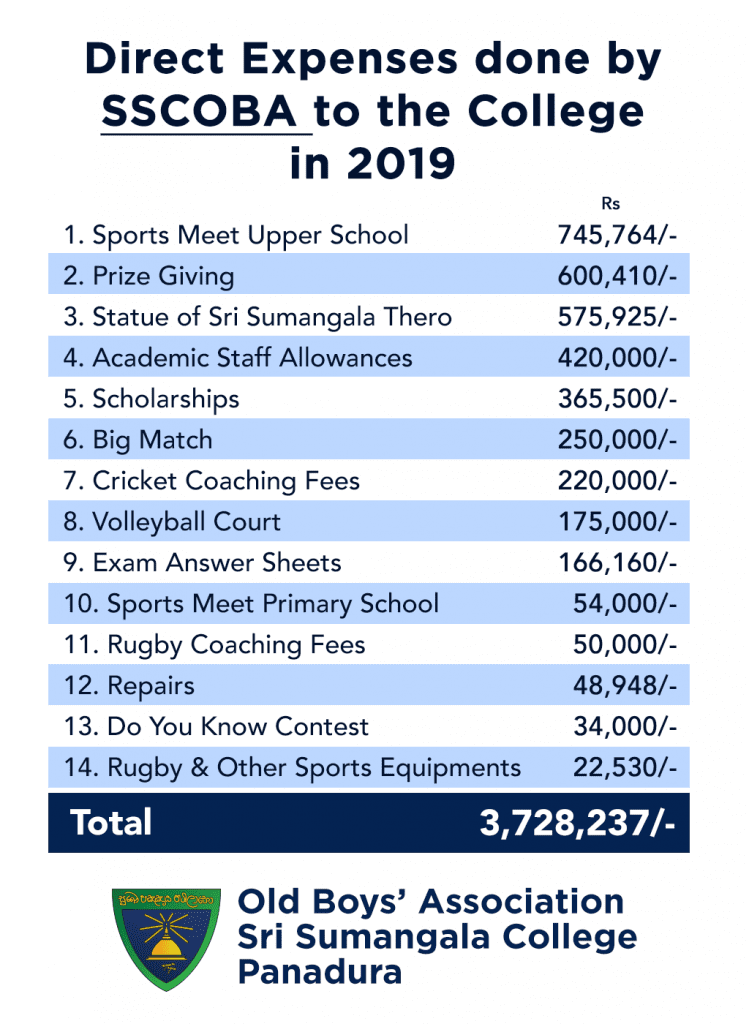 We would like to thank all our distinguished old boys & well-wishers who made this possible.
We will keep supporting the college as the official alumni and request all Old Sumangalians around the world to get in touch with us if you would like to be a part of this honorary service we render to our Alma Mater.