Career Guidance Program for 2019 A/L Students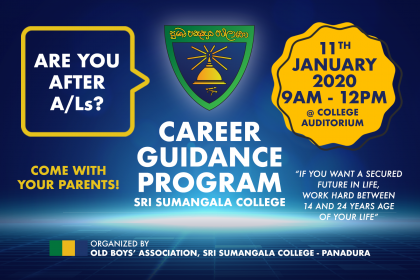 Are you after 2019 A/Ls?
Students studying at college level are currently choosing a career based on parental, peer and societal influence. More importantly a lot of them drop out of education post A/Ls as they are not provided with any guidance. Also there is a huge gap in aspiration and awareness of vocational careers among students.
Seeing these issues in our Alma Mater, SSCOBA Digital & ICT Subcommittee planned to launch a career guidance project with an aim to help 2019 A/L students in taking effective transition from school to workforce and higher education.
This program is the brainchild of Old Sumangalian Tilak De Silva. The former Chief Business Innovation Officer of Sri Lanka Telecom, Past President of Institution of Engineers, Sri Lanka and present Chairman of Engineering Council Sri Lanka.
Part from Tilak De Silva, this program program has two more speakers joining us.
Chamil Jeewantha, Software Architect at Zone24/7 and Visiting Lecturer at University of Moratuwa, University of Kelaniya and University of Ruhuna.
Hasith Yaggahavita, Chief Technology Officer at 99X Technology and Board member of SLASSCOM.
Our partners, SLIIT, Cinec Campus, UNIVOTEC (The University of Vocational Technology), APIIT and TVEC (Tertiary & Vocational Education Commission) will have their representatives to guide you at our program and one-on-one sessions.
2019 A/L students of Sri Sumangala College and their parents are requested to take part in this program and take advantage.
Call Chamara on 0712 967 967 or Sampath on 077 783 6296 or Lishan on 077 780 2562 for more details.