Annual General Meeting (AGM)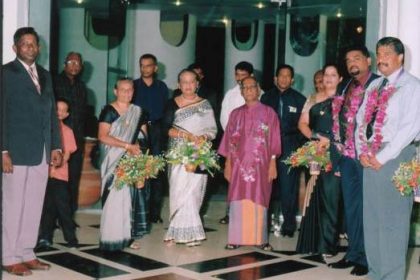 AGM of the OBA was held on 26th May 2007 from 9000Hrs onwards at the school premises with a record number of attendance of well over 250 old boys showing the growing interest of the OBA activities. This is considered to be a good sign for the future of OBA assistance towards the school. New office bearers were appointed for the year 2007/2008. Few positions remained unchanged i.e. President, Jt. Secretaries, Treasurer, Editor and Social Secretary.
The Annual get-together & Fellowship was held with a record number of participants of approx. 400nos, at Villa Ocean View Hotel, Wadduwa with the Chief Guest being an old boy Lion Rohantha De Fonseka, Chairman, Bio-Med International (Pvt) Ltd., and Guest of Honor being an old boy Deshamanya Aruna Abeygoonewardene, Founder Chairman, Sri Lanka – German PINA Foundation. The special guests comprises old boy Mr. Neomal Fernando, Managing Director, JF&I Printers, Mr. Mahinda Illeperuma, Director/Media Advisor to HE President, Mr. Saman Waduge, Addl. Secretary to the HE the President.
A distinguished old boy Dr. W.D. Aamardeva, who is considered as a world renowned musician was felicitated at the AGM.
Also in considering the yeoman service done to the SSC OBA by late Mr. Walter Mendis (former Secretary, OBA – SSC), this year souvenir has been dedicated to his name.
Addressing the gathering Mr. Rohantha De Fonseka being a founder member of the OBA, Colombo Branch mentioned that he was happy to note the progress made by the present OBA in helping the school with numerous ways and also with the new school construction works. He also announced his wish in constructing a swimming pool for the school amidst a well round of applause. He further informed the gathering that he will donate a fax / photo copier to the school for its office use as well.
Mr. Aruna Abeygoonewardena in his speech stated that he will provide any assistance to the development of the school and the student population. Later he informed the OBA that he will make necessary arrangements to donate a bus capable of carrying 26 students
President OBA, Mr. Sarath Rodrigo welcomed the guests and Mr. L. W. Somatilaka, Principal also addressed the gathering. The vote of thanks was given by the Jt. Secretary, Mr. Anuja Perera. Special thank was paid to Mr. Neomal Fernando, MD, JF&I printers for printing the OBA souvenir at a nominal amount of Rs. 200,000.00, whereas the actual cost would have been around Rs. 1,000,000.00.
Mementos were presented to Dr. W.D. Amaradewa, Lion Rohantha De Fonseka & Deshamanya Ruwan Abeygoonewardena.
Following old boys made donations to OBA at the evening ceremony as described below;
Rs. 100000.00 was donated by Mr. Thungalal Gunerathna for the special fund.
Fax Machine / Photo copier to OBA office by M. Sarath Fernando
Conference Table with Chairs for new OBA office by Mr. Nilantha Samaranayake