92nd OBA Day Celebration Parade & Bus Donation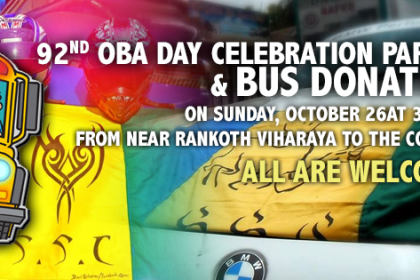 SSCOBA is celebrating its 92nd OBA day in style!
The OBA will be donating a bus to the college, thanks to the Minister of Transport Hon. Kumara Welgama and Western Province Council Member, distinguished old boy Mr Neel Sunethralal Fernando.
An OBA Parade will start from near Rankoth Viharaya and proceed to the college through Panadura city. Once the parade reaches the college, OBA will donate the bus to the college.
All Sumangalians, Old Boys, patrons, their families and other well-wishers are welcome to join the parade in vehicles or on foot.
We hope to see you there! Wear your college t-shirt and cap, bring your vehicle (motorbike, car, van etc) along with your college flag and any other college-themed decor!
See you all at 3pm near Rankoth Viharaya on 26th Sunday.
Here is the link for the Facebook Event.
Long live mother Sumangala and Old Boys' Association!